"Amatörernas afton"
by Anneli Furmark




"Den skitstora Johan
Wanloo-boken"
by Johan Wanloo




"Du går fel väg"
by Jason




"Ett familjealbum"
by Åsa Grennvall




"Hjärtat brinner"
by Li Österberg &
Patrik Rochling




"Holmenkollen"
by Matti Hagelberg




"Mansslukerska på cirkus"
by Kati Kovács




"Horor är vi allihopa"
by Maja Lindén




"Punk provocateur"
by Gunnar Krantz



OPTIMAL PRESS
The small Swedish comics publisher Optimal Press was founded in 1991 by Ingemar Bengtsson and Mikael Tegebjer. The reason behind this was a common feeling that the new Swedish creators had nowhere to go, especially if they didn't intend to conform to the styles of the larger publishing houses. Said and done, we released the anthology album "Ulv i fårakläder" ("Wolf in sheep's clothing") and thought it would be both our first and last book. But we were wrong. The interest was overwhelming and the book sold out quickly. So we went out on a bumpy publishing road with the aim to publish the best Swedish comics in book form for a mature audience. Daniel Ahlgren, Johan Wanloo and David Liljemark were present already from the start and their comics have since been printed in numerous albums.

The keyword at Optimal Press is development. We have always published a lot of debutants and creators that other publishers were afraid to publish even though they were good. The genres were mixed from the start. We were the first ones to publish Swedish horror, cyberpunk and autobiography in comics albums. Still it doesn't matter to us which genre the comics are, what's interesting is if the story is good enough or not. We are particularly looking for good storytellers, which can be hard in itself. Then we want the stories to have illustrations that fit in with what is being told.

Another important thing was in 1993 when we decided to start translating comics from our neighbouring countries, first Finland and then also Denmark, Norway and eventually Iceland. Our attitude is that the translated material should be the best we can find. The first book was the Finnish anthology "RefleXerier" which was printed in early 1994. Both Kati Kovács and Pentti Otsamo contributed to the book and have been a part of Optimal Press ever since. Later we have also translated the works of Matti Hagelberg and Katja Tukiainen. The internationally acclaimed Norwegian Jason came on in 1996 and so far has done eight titles for us. He has been followed by several other fellow countrymen like Christopher Nielsen, mainly in our anthologies. The Dane Jan Solheim was also first published in 1996 and in 2003 he was followed by Henrik Rehr. From Iceland we have printed a couple of comics by Bjarni Hinriksson.

As for the Swedes, who of course take up a majority of our publications, we have maybe caught the media's attention mostly for the slice-of-life and autobiographical comics we have released by authors like Daniel Ahlgren, Åsa Grennvall, Anneli Furmark, Gunnar Krantz and Coco Moodysson. The realistic work of the creator team of Li Österberg and Patrik Rochling can be counted in here as well, even though it is pure fiction. But we have also printed a lot of humourbased material by among others David Liljemark, Johan Wanloo, Maja Lindén and Joakim Lindengren.

The anthology series "Allt för konsten" ("Everything for art") began in 1998 and the first volume contained autobiographical and everyday life stories by Swedish creators. Since then the book has opended up for creators from all the Nordic countries and is now published annually. The more realistical stories are in majority, but usually there is also quite a bit of surrealism and a few more experimental comics as well, especially among the translated material. Every autumn a new volume will see print and as usual there will be a mix of both established creators and exciting newcomers.

Mikael Tegebjer left Optimal Press in 1997 and nowadays work for the giant publisher Egmont. Since then Ingemar Bengtsson has continued on his own. To his help he has a couple of loyal freelancers such as the indispensable graphic designer Nicolas Krizan who has been around since the start. In addition to giving the almost 100 books in Optimal's catalogue great looks, he has also drawn the company logotype. Since 2000 Björn Schagerström has been the webmaster of the Optimal Press website and he has contributed a lot to the pre-press work as well. Without them it wouldn't be possible to run this company. At the moment around 23 creators are doing solo books and a number of others contribute more or less regularly to the "Allt för konsten" anthology. The books and creators from Optimal Press have been awarded numerous times, among other things we have received the Swedish Comics Association's "Urhunden" prize for best comics album nine times. The company is now in its 14th year and we hope to be able to deliver the best Nordic comics to the Swedish market for yet many years to come.




Optimal Press
Box 2408
403 16 Göteborg
Sweden

Telephone
+46(0)31473857

E-mail
info@optimalpress.com

Homepage
www.optimalpress.com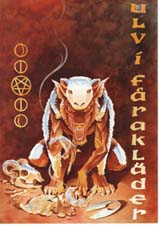 "Ulv i fårakläder" was the first book. Cover by Nicolas Krizan.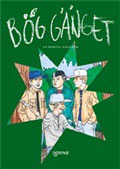 Daniel Ahlgren was one of the prolific artists from the beginning. Here is his book "Böggänget"



David Liljemark was with Optimal from the start as well. This is his paper back "Susanna & Bo".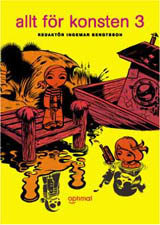 "Allt för konsten" has become a succesful anthology series. Here is the 3rd instalment with cover by Finnish artist Petteri Tikkanen.